** LAST UPDATED MAY 17, 2018... ⚘⚘⚘ WE HAVE PUPPIES DUE IN MAY & YOUNG ADULTS AVAILABLE! EXPECTING PARTI'S, SOLIDS AND MERLES IN EXOTIC COLORS! 💜💙💛❤💚 PLEASE FILL OUT THE QUESTIONNAIRE ON MY WEBSITE. SERIOUS INQUIRIES ONLY PLEASE***


~ Blessed Pomeranian Owner & Breeder Since 1987 ~
Welcome To Our "Available Puppies Page"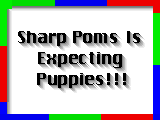 ~ THE STORK HAS ARRIVED! ~

" WE HAVE PUPPIES! "

Sharp Poms is looking forward to a New Year of beautiful Exotic Colored Pomeranian Puppies! We will have Merle Pomeranian Puppies in both Blue & Chocolate, Blue, Blue & Tan, Blue Beaver, Blue Sable (Blues are my specialty!) Chocolate, Chocolate & Tan, Chocolate Beaver, Lavender, Lavender & Tan, Beaver, Black & Tan, Black-Tan-White Tri, and Parti Poms in a Rainbow Of Colors!

We DO NOT guarantee the color, size, breeding or show quality of the Pomeranian, only the health of the Pom at the time of sale against life threatening illness that may be discovered during the 72 hour health guarantee. We can only give a guesstimation of the potential adult weight through parents sizes and a chart we refer to. Most of our puppies average in size from 3 to 7 lbs but some may be larger or smaller. We require a Non-Refundable deposit to hold a puppy for you with the balance due in full by age 6 weeks old. If for any reason you change your mind about the purchase of the Pomeranian, you will lose your deposit and all monies paid toward the puppy and the puppy will be relisted as available. Please be aware of these issues before commiting to purchase one of our babies.

***IMPORTANT SHIPPING INFORMATION***
New regulations are in effect. Most of our puppies are picked up by pet and breeding parents with the occasional shipping of a pet puppy, as of now we can no longer ship pet puppies, only breeding prospects. I am sorry for any inconvenience this may cause and we will try our best to help meet you to with traveling to a certain point. If you have any questions please let me know. Thank you ~
PLEASE VISIT OUR "NEW SHIPPING INFO" PAGE ON THE LINK BELOW FOR MORE INFORMATION. http://sharppoms.com/custom4.html
CLICK HERE TO PAY WITH PAYPAL